Past Events
Truth From Above: Festive Choral Concert
Rodolfus Choir

Ravishing choral music with a Christmas theme, including Vaughan Williams, Bruckner, Tchaikovsky, Tallis, Bach and Howells presented by the exceptionally talented Rodolfus Choir.

Drawn from Britain's very finest young choral singers, The Rodolfus Choir "perform throughout with clarity, flawless intonation and an ideal blend, in repertoire that would tax the resources of a professional choir." BBC Music Magazine.

Friday, 30 December 2022, 7:30pm

St Mary's Bathwick, Bath


Nine Lessons and Carols,
Pimlico Musical Foundation and Inner Voices

Join us for an evening for a Festival of Nine Lessons and Carols with Pimlico Foundation Scholars and Teacher-Singers and Inner Voices.

Tuesday 13th December, 7pm

St Gabriel's Church Pimlico



Earth, Sun and the Stars,
Pimlico Musical Foundation

Join us for PMF's spectacular winter concert Earth, Sun and the Stars joined with over 200 performers and professional musicians singing a selection of winter choral favourites including Schutz' Magnificat, Essenvalds' Stars, LaBarr's The Wisdom of the Moon and others.

Featuring Foundation Scholars, Pimlico Chorus, Pimlico Children's Choir and local schools.

Wednesday 30th November, 7pm

St Gabriel's Church Pimlico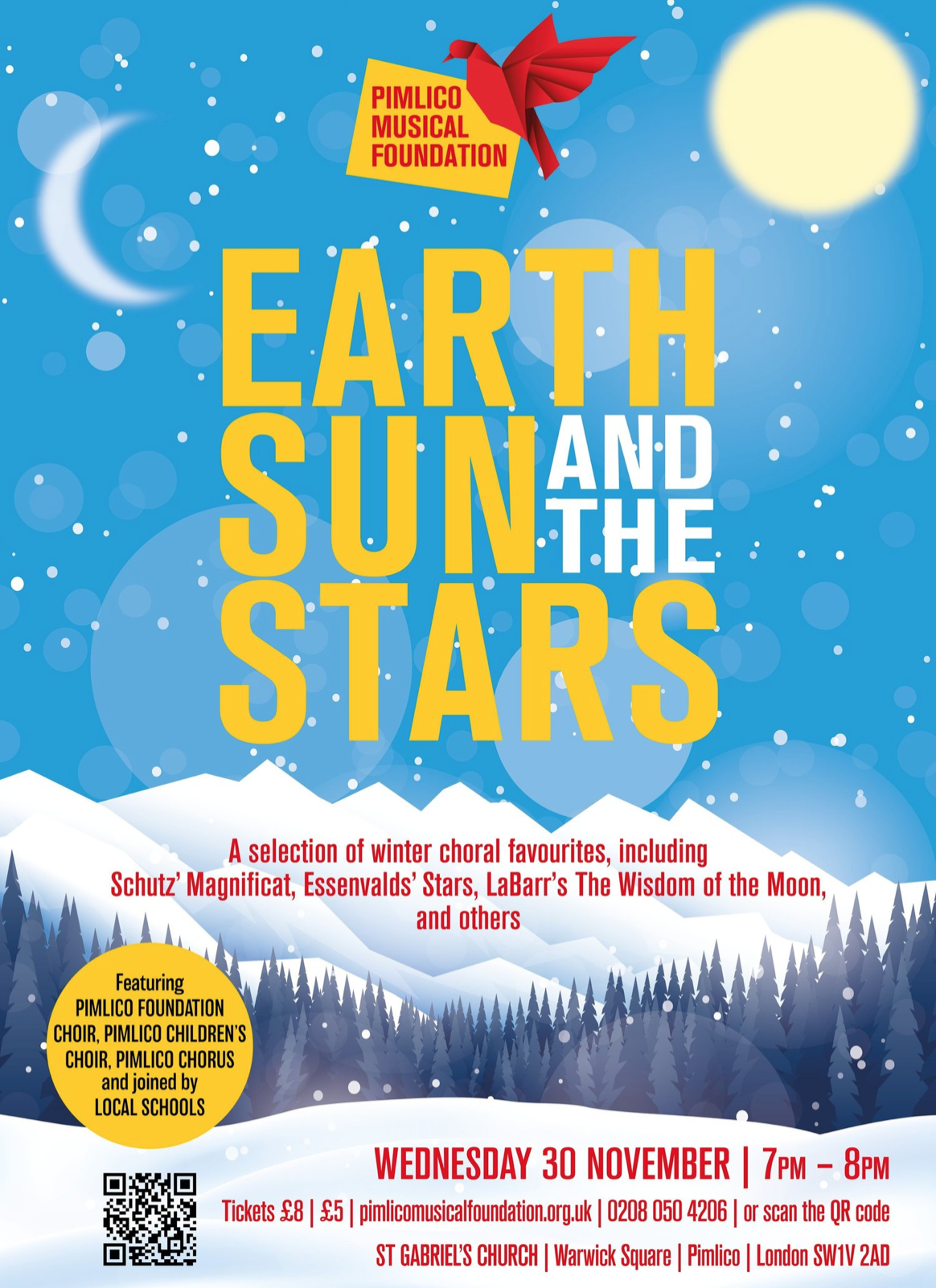 Brandenburg presents Old Royal Naval College Trinity Laban Chapel Choir

An Autumn Bouquet including Harris, Britten, Swayne, Lassus, Pärt, Tallis, Allwood, Elgar, and Purcell

Old Royal Naval College Trinity Laban Chapel Choir
Ralph Allwood - Conductor

Saturday 19 November, 5.30pm

St Bartholomew the Great, W Smithfield, London EC1A 9DS

Ralph's 70th Birthday Concert, 30th April, St Gabriel's Church Pimlico

Requiem op 48, Gabriel Fauré
Symphony no 4 in E minor op 98, Johannes Brahms

Brandenburg Sinfonia conducted by Ralph Allwood, who says

"My favourite of the wonderful Brahms Symphonies is no 4, but it is the only one I haven't conducted. So I thought I would indulge myself on my birthday! Guest of Honour is the superb teacher who first introduced me to it in 1966, David Nield, who was Director of Music at Tiffin School, Kingston for his whole career. The choir will simply be those in the audience who sing. They will sit in a special area. There will be drinks after, and the whole thing is in aid of the Pimlico Musical Foundatin"

3.15-4.30 Rehearsal for those wishing to sing.
5.30 Concert.


Choir of the Earth - National Anthem
In this Platinum Jubilee year, Choir of the Earth would like to present Her Majesty The Queen with a new recording of God Save The Queen on June 1st 2022
Ralph has written a new arrangement specially for this course. To accompany the Choir of the Earth, Luke Bond, Assistant Director of Music, will play the organ at St. George's Chapel, Windsor Castle. The rehearsal tracks are sung by members of The Rodolfus Choir.
At the end of these rehearsals, you are invited to record and send your own voice which will be combined in the studio to create the full choir.
https://choiroftheearth.com/god-save-the-queen
Self Isolation Choir - Hymns
Following the success of the ABBA course, Ralph partned with SIC to unite 1000 people in the perforamce of eight hymns.
The organs of Llandaff Cathedral, Peterborough Cathedral, Washington Cathedral, Belfast Cathedral, Liverpool Cathedral, Salisbury Cathedral, All Saints Episcopal Church (TX, USA) and St Paul's Cathedral accompanied the peices.
Each hymn was introduced by familar faces including Stephen Fry, Sir Bryn Terfel, and Katherin Jenkins OBE.
Profits from this project were donated to the RSCM, Cathedral Music Trust, The Choral Evensong Trust, and the Rodolfus Foundation.
https://www.theselfisolationchoir.com/hymns
Self Isolation Choir - ABBA
Launced in March 2020 to provide choral opportunities during the pandemic, the Self Isolation Choir has seen 12,000 participants since its inception.
Ralph and Lora Sansun have arranged five ABBA pieces for SATB voices. Over the course of three weeks Ralph taught these pieces which participants then recorded for a final concert on 13th March 2021. The final choir amounted to over 600 singers.
More information about the course can be found
here
.
https://www.theselfisolationchoir.com/abba