Past Events
Preparing for Evensong

A singing workship with Ralph Allwood in St Mary's Church Swanage. Ralph comes to Swanage to lead a very special workshop for singers of all ages who would like to prepare for a Choral Evensong. Ralph will teach vocal technique and everything you need to know about singing evensong.

Introit: Locus Iste - Bruckner
Responses: Byrd
Canticles: Stanford in C
Anthems: Geistliches Lied - Brahms, Ave Maria - Lindley

23rd September, 10:00 - 17:15
St Mary's Church, Swanage, BH19 1HU
BBC Radio 3, Choral Evensong


Ralph Allwood conducts the Old Royal Naval College Trinity Laban Chapel Choir for a live broadcast of Choral Evensong.

Conductor: Ralph Allwood
Organist: Jonathan Eyre

4th October, 15:30 - 16:30
Old Royal Naval College Chapel, Greenwich, SE10 9LW

Evensong at St John's College, Cambridge


The Rodolfus Choir return to one of the most prestigious college chapels in the country to sing evensong.

Introit: Consider the lilies of the field – Ralph Allwood
Response: William Byrd
Canticles: St Paul's Service - Herbert Howells
Anthem: Give unto the Lord - Edward Elgar

Conductor: Ralph Allwood
Organist: Alex Robson

16th September 2023, 18:00 - 19:00
St John's College Cambridge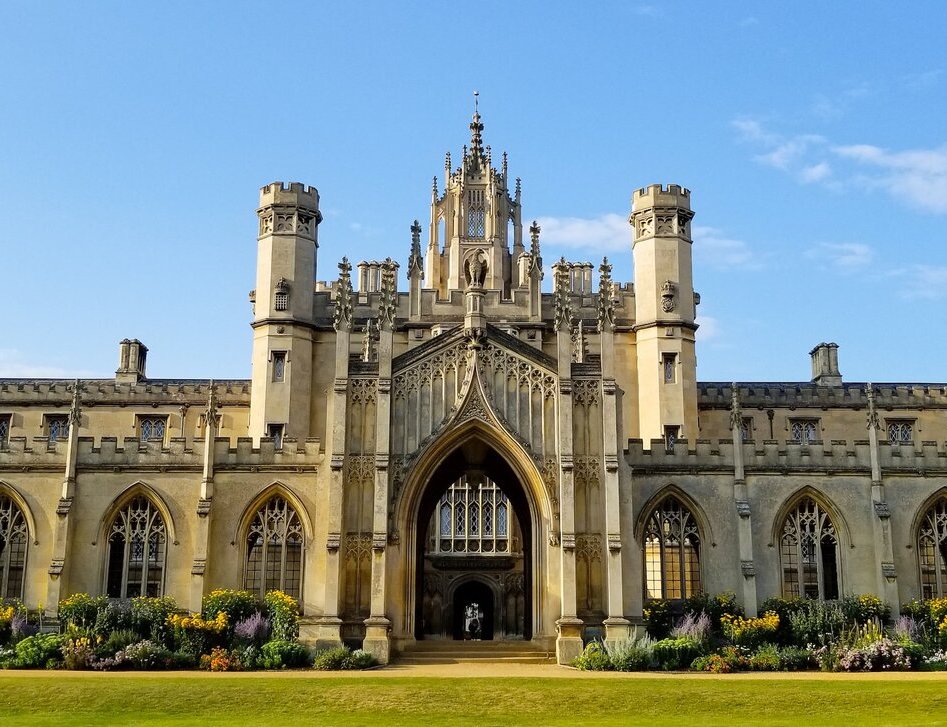 24 Hour Messiah, St George's Hanover Square

RCSM and Labrador Events invite singers and instrumentalists to a "24 hour Drop-In" performance of MESSIAH at St. George's Church.

Recently the church has suffered serious damage to its portico and they are fundraising to meet the costs of the repair.

We'll start at 15:00 on Thursday 7 September 2023 with AND THE GLORY OF THE LORD with whoever is there and we'll work our way through the choruses until we get to the end. And when we get to the end, we'll start all over again and repeat this for 24 hours until we finish at 15:00 on Friday 8 September 2023.

7th September, 15:00 - 8th September, 15:00
(Ralph conducts 8th September, 11:00 - 13:00)
St George's Hanover Square, London, W1S 1FX
Brandenburg Choral Cruise

Ralph will be setting sail on a choral cruise through the Fjords in August. You may have been to a number of choral concerts hosted by Brandenburg over the years. Their choral cruise will have a similarly high quality of music and organisation. Repertoire isn't yet decided. Ralph is open to suggestions and demands!

30th August - 7th September

Choral Course 4, Rodolfus Foundation

The Choral Courses are for singers aged between 16 - 21, many of who are considering University and other Choral Scholarships, but it is by no means a requirement and we welcome singers who just enjoy choral singing and want to improve.

The main focus of each Choral Course is the choir made up of all participants, which prepares for three main performances or choral evensongs. Preparation for choral scholarships and advice on singing beyond school is given a high priority and there are sessions in sight-reading, aural tests and performance, alongside vocal master-classes, a cappella workshops and sessions with visiting conductors.

Saturday 19th August - Saturday 26th August 2023

Oxford


Choral Course 2, Rodolfus Foundation

The Choral Courses are for singers aged between 16 - 21, many of who are considering University and other Choral Scholarships, but it is by no means a requirement and we welcome singers who just enjoy choral singing and want to improve.

The main focus of each Choral Course is the choir made up of all participants, which prepares for three main performances or choral evensongs. Preparation for choral scholarships and advice on singing beyond school is given a high priority and there are sessions in sight-reading, aural tests and performance, alongside vocal master-classes, a cappella workshops and sessions with visiting conductors.

Monday 7th August - Monday 14th August, 2023

Cambridge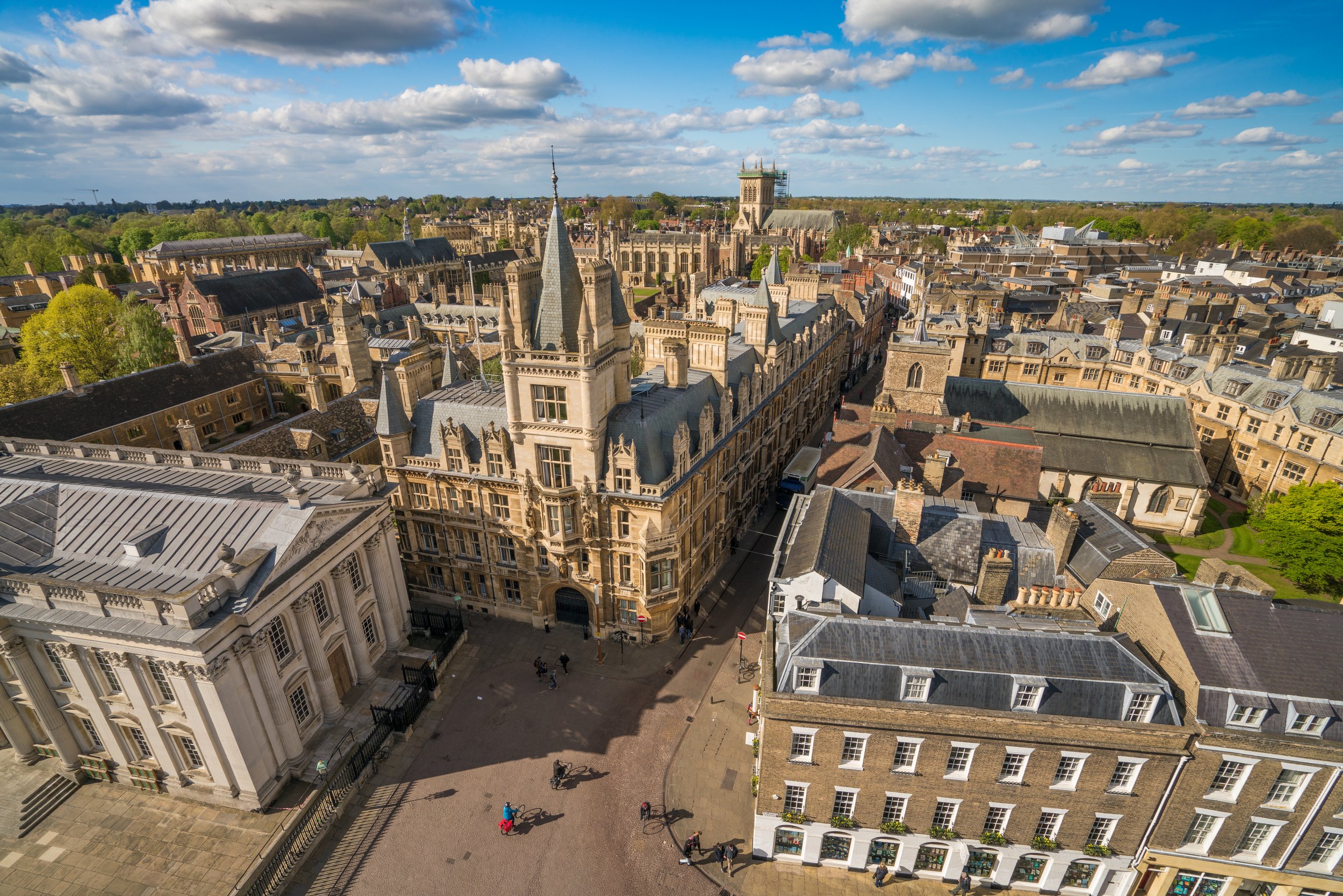 Ralph Allwood MBE:
My favourite 10 chords


As a choral and musical leader in the UK for many years, Ralph Allwood has always been obsessed with chords.What is it about this chord or that chord which "strikes a chord" with the listener? Where do they come from?Which chords and why?Which is Ralph's absolute favourite?

Come along to a relaxed and informal conversation with Ralph at the piano where he will play and discuss
his 10 Favourite Chords with Mark Strachan.

7:30pm, Saturday 29th July, 2023

Holy Trinity Church, Sloane Square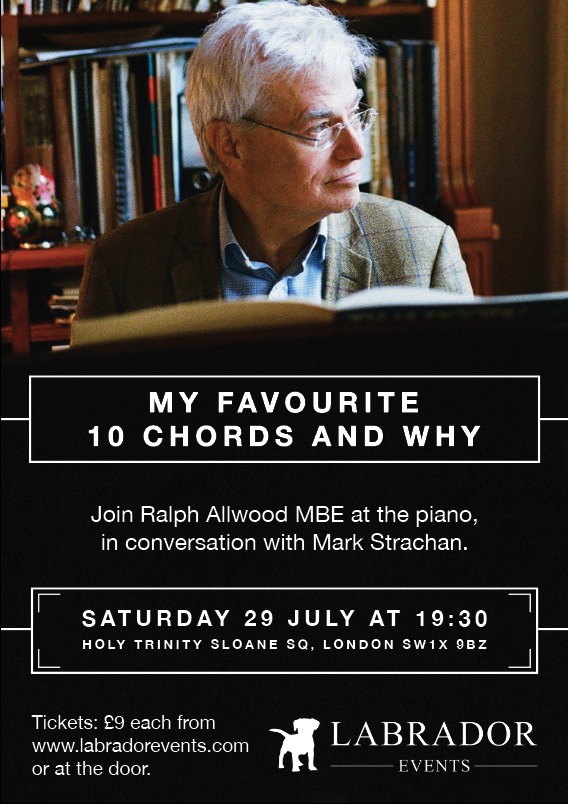 Junior Choral Course 1, Rodolfus Foundation

The Junior Choral Courses offer unique opportunities to children aged 8 - 15 to experience choral singing at a very high level. The course staff are all accomplished singers, and their voices join the young people to enable them to sing some of the great choral repertoire for four voices alongside excellent music written for the students' higher voices.

Friday 21st July to Thursday 27th July, 2023

Cheltenham College


Adult Choral Course, Rodolfus Foundation

Come and join us for our first ever Rodolfus Foundation Choral Course for adults of all ages as we explore some of the best liturgical music under the expert direction of three inspirational choral directors – Ralph Allwood MBE, John Rutter CBE and Ben Parry.

You'll sing services at Holy Sepulchre, The National Musicians' Church in Holborn and Old Royal Naval College Chapel in Greenwich. Rehearsals will be hosted at St Gabriel's Church in Pimlico and the Garry Weston Library within Southwark Cathedral. There are no auditions but some choral singing experience is helpful. Music can be sent out before the course.

Thursday 13th April - Sunday 16th April, 2023

London


Brandenburg Choral Festival - Sing Joyfully!

The Rodolfus Choir perform a programme inspired by William Byrd as part of the Brandenburg Choral Festival of London. Including music by Tallis, Purcell, Elgar, Parry and Ralph Allwood. Conducted by Ralph Allwood and Elinor Cooper.

18:00, Saturday 18th Feburary, 2023

St Stephens Gloucester Road, Kensington London SW7 4RL

Evensong at Holy Sepulcre

The Rodolfus Choir will sing evensong at Holy Sepulchre. The service is enitirely free to members of the congregation and will include Parry's Magnificat, Emendemus in Melius by William Byrd and Byrd responses. Supporters are invited to join us for a drinks reception after the service.

17:15, Thursday 16th Feburary, 2023

Holy Sepulchre, Holborn Viaduct, EC1A 2DQ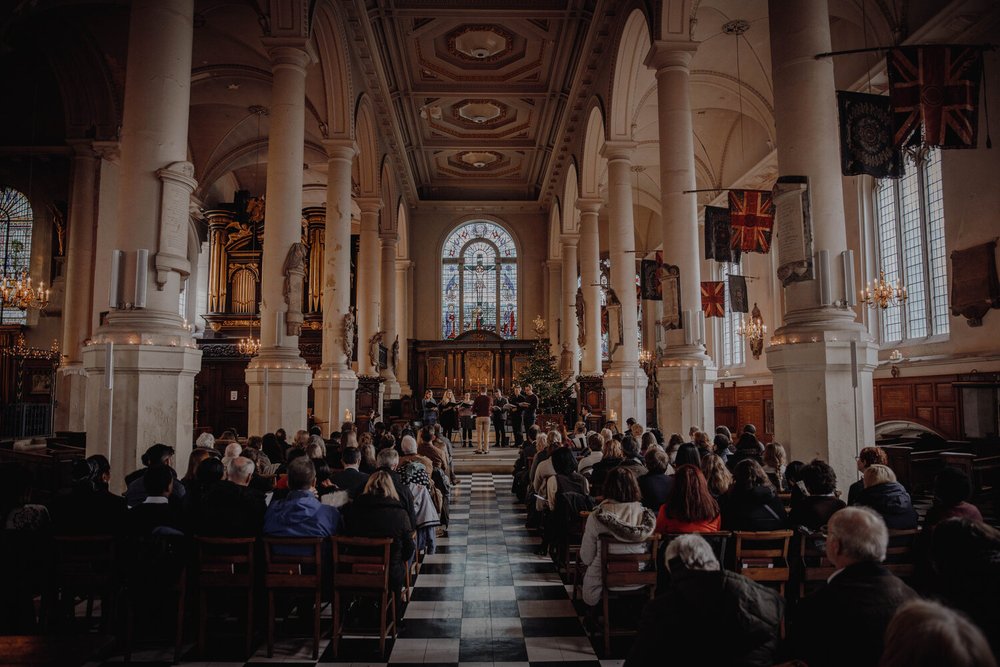 Truth From Above: Festive Choral Concert
Rodolfus Choir

Ravishing choral music with a Christmas theme, including Vaughan Williams, Bruckner, Tchaikovsky, Tallis, Bach and Howells presented by the exceptionally talented Rodolfus Choir.

Drawn from Britain's very finest young choral singers, The Rodolfus Choir "perform throughout with clarity, flawless intonation and an ideal blend, in repertoire that would tax the resources of a professional choir." BBC Music Magazine.

Friday, 30 December 2022, 7:30pm

St Mary's Bathwick, Bath


Nine Lessons and Carols,
Pimlico Musical Foundation and Inner Voices

Join us for an evening for a Festival of Nine Lessons and Carols with Pimlico Foundation Scholars and Teacher-Singers and Inner Voices.

Tuesday 13th December, 7pm

St Gabriel's Church Pimlico



Earth, Sun and the Stars,
Pimlico Musical Foundation

Join us for PMF's spectacular winter concert Earth, Sun and the Stars joined with over 200 performers and professional musicians singing a selection of winter choral favourites including Schutz' Magnificat, Essenvalds' Stars, LaBarr's The Wisdom of the Moon and others.

Featuring Foundation Scholars, Pimlico Chorus, Pimlico Children's Choir and local schools.

Wednesday 30th November, 7pm

St Gabriel's Church Pimlico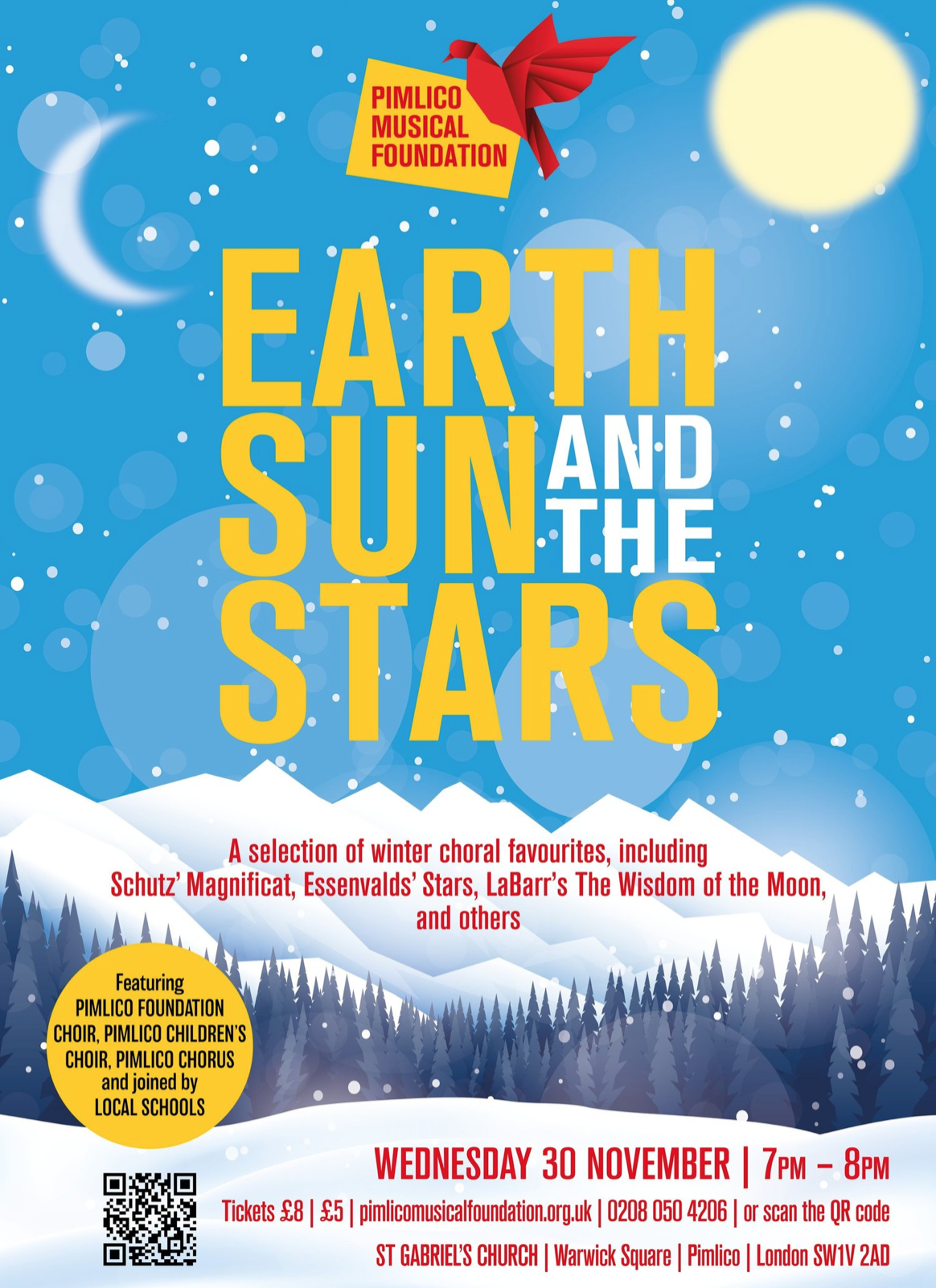 Brandenburg presents Old Royal Naval College Trinity Laban Chapel Choir

An Autumn Bouquet including Harris, Britten, Swayne, Lassus, Pärt, Tallis, Allwood, Elgar, and Purcell

Old Royal Naval College Trinity Laban Chapel Choir
Ralph Allwood - Conductor

Saturday 19 November, 5.30pm

St Bartholomew the Great, W Smithfield, London EC1A 9DS

Ralph's 70th Birthday Concert, 30th April, St Gabriel's Church Pimlico

Requiem op 48, Gabriel Fauré
Symphony no 4 in E minor op 98, Johannes Brahms

Brandenburg Sinfonia conducted by Ralph Allwood, who says

"My favourite of the wonderful Brahms Symphonies is no 4, but it is the only one I haven't conducted. So I thought I would indulge myself on my birthday! Guest of Honour is the superb teacher who first introduced me to it in 1966, David Nield, who was Director of Music at Tiffin School, Kingston for his whole career. The choir will simply be those in the audience who sing. They will sit in a special area. There will be drinks after, and the whole thing is in aid of the Pimlico Musical Foundatin"

3.15-4.30 Rehearsal for those wishing to sing.
5.30 Concert.


Choir of the Earth - National Anthem
In this Platinum Jubilee year, Choir of the Earth would like to present Her Majesty The Queen with a new recording of God Save The Queen on June 1st 2022
Ralph has written a new arrangement specially for this course. To accompany the Choir of the Earth, Luke Bond, Assistant Director of Music, will play the organ at St. George's Chapel, Windsor Castle. The rehearsal tracks are sung by members of The Rodolfus Choir.
At the end of these rehearsals, you are invited to record and send your own voice which will be combined in the studio to create the full choir.
https://choiroftheearth.com/god-save-the-queen
Self Isolation Choir - Hymns
Following the success of the ABBA course, Ralph partned with SIC to unite 1000 people in the perforamce of eight hymns.
The organs of Llandaff Cathedral, Peterborough Cathedral, Washington Cathedral, Belfast Cathedral, Liverpool Cathedral, Salisbury Cathedral, All Saints Episcopal Church (TX, USA) and St Paul's Cathedral accompanied the peices.
Each hymn was introduced by familar faces including Stephen Fry, Sir Bryn Terfel, and Katherin Jenkins OBE.
Profits from this project were donated to the RSCM, Cathedral Music Trust, The Choral Evensong Trust, and the Rodolfus Foundation.
https://www.theselfisolationchoir.com/hymns
Self Isolation Choir - ABBA
Launced in March 2020 to provide choral opportunities during the pandemic, the Self Isolation Choir has seen 12,000 participants since its inception.
Ralph and Lora Sansun have arranged five ABBA pieces for SATB voices. Over the course of three weeks Ralph taught these pieces which participants then recorded for a final concert on 13th March 2021. The final choir amounted to over 600 singers.
More information about the course can be found
here
.
https://www.theselfisolationchoir.com/abba